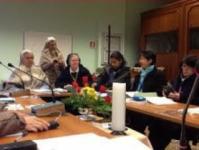 OPENING SESSION AND DAY 1 (više na ovom linku)
The Session of the New Provincials Meeting began Wednesday evening, February 1st, with a sharing and an "ice breaker" of dividing into two groups – the new provincials and the general council – to build a boat made with very simple materials. This was a real test of how a group can plan, organize and execute a task together and have fun doing it!
Thursday morning, February 2nd, began with the Opening Ritual and Conference by M. Cecilia. The following are key points in her message to the new provincials. The purpose of government, according to Timothy Radcliff, is to bring forth the Word of God. Henri Nouwen points out that contemplative prayer is essential for Christian Leadership. Ursuline leadership, in discernment, should lead to decisions for "the common good". The importance of having the Word of God and the Body of Christ (Eucharist) as the center of our Ursuline life in reflected in our Constitutions and keeping focused on this center will help us avoid going too far beyond our borders and losing our way.
The afternoon there were two topics presented: Srs. Brigitte Brunet and Alice Montgomery presented the topic of "Leadership in The Spirit of St. Angela" and Sr. Mariangela Mayer spoke on "The Provincial in Leadership".