Meeting of European Provincials and Provincial Treasurers
Rome, Italy – 20 – 23 February 2012

A total of 39 Ursulines and lay collaborators from different provinces in Europe gathered in Rome for a meeting that focused on the responsibility, both moral and spiritual, to service as guardians of materials goods.

The first presentation was on "Ursuline Spirituality in the Light of Our Charism in Our Service of Treasurer". M. Colette Lignon and Sister Angela Poggi presented this topic keeping as the focal point Angela's words to us: "…have Jesus Christ as your only treasure…." And Mathew's gospel: "Where your treasure is, there will you heart be also". (Mt. 6: 19-21)
Among the topics presented and discussed were:

Social Teaching of the Church
Ethics in business: Gospel Prophets
The Face of Jesus Christ in our ageing and sick sisters
Collaboration and Subsidiarity at the local, provincial, general levels
Collaboration with the Laity, Church and State
Central Financing

There has been a wealth of sharing among the participants in regard to these topics. Among those participating were 12 lay collaborators who have faithfully worked for and with the Ursulines in the area of finances.
We are grateful for all who contributed to making this meeting a successful one.
Opširnije...
EGC – February 7th – 17th, 2012 Rome, Italy
The Enlarged General Council Meeting for 2012 was officially opened with a warm welcome by M. Cecilia, followed by a prayer ritual and her conference. The sisters gathered in the Chapter Room and we began with the song "Open my Eyes, Lord."

The entire meeting was dedicated towards preparing for the General Chapter of 2013. Topics were presented, discussed in small and large groups and suggestions and recommendations surfaced as to how best to approach these topics. Some of these topics were:

What is a General Chapter and Discernment
The Role of the Delegates
Content and method of work for the General Chapter 2013
Spiritual Preparation for the Chapter
Principles of Elections for the General Chapter

A good part of the time together centered on the two biblical themes that M. Cecilia shared with us in her opening conference as possible themes for the General Chapter:

· The Samaritan Woman (John 4:4-26)
· Jesus' call to the disciples to go to the deep and throw out their net (Luke 5:1-7).

After much prayer – personal, in small groups and in assembly together – as well as discussion and deep sharing the assembly was able to come to a consensus on the theme: "Go out into Deep Water…." (Luke 5:1-11)

We are grateful to all who worked so hard to make this Enlarged General Council Meeting such a meaningful and life giving meeting.
Opširnije...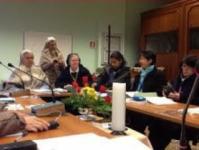 OPENING SESSION AND DAY 1 (više na ovom linku)
The Session of the New Provincials Meeting began Wednesday evening, February 1st, with a sharing and an "ice breaker" of dividing into two groups – the new provincials and the general council – to build a boat made with very simple materials. This was a real test of how a group can plan, organize and execute a task together and have fun doing it!
Thursday morning, February 2nd, began with the Opening Ritual and Conference by M. Cecilia. The following are key points in her message to the new provincials. The purpose of government, according to Timothy Radcliff, is to bring forth the Word of God. Henri Nouwen points out that contemplative prayer is essential for Christian Leadership. Ursuline leadership, in discernment, should lead to decisions for "the common good". The importance of having the Word of God and the Body of Christ (Eucharist) as the center of our Ursuline life in reflected in our Constitutions and keeping focused on this center will help us avoid going too far beyond our borders and losing our way.
The afternoon there were two topics presented: Srs. Brigitte Brunet and Alice Montgomery presented the topic of "Leadership in The Spirit of St. Angela" and Sr. Mariangela Mayer spoke on "The Provincial in Leadership".
Opširnije...