S lijeva, u prvom redu: Sr. Sueli de Fátima Venâncio, Sr. MarieCruzGarcia, Sr. Erlinda C. Lucero, Sr. Latica Xalxo, Sr. Sabina Vakselj, Sr. Mel Williams
U drugom redu: Sr. EmmanuelaKlich, Sr. Jana Korekáčová, Sr. StéphanieLorel, Sr. Magdalena Lian
U trećem redu: Sr. WiolettaAdamczak, Sr. Mariana Ita Batmomolin, Sr. Zorica Blagotinšek, Sr. Vesna Valek, Sr. ZuzannaFilipczak, Sr. ThipkanokPrasopchokchai, Sr. Meta Potočnik, Sr. LéocadieCissokho, Sr. Andreja Godnič

Opširnije...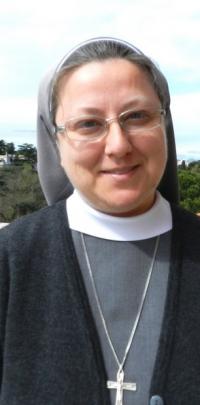 My name is Blaženka Divić. I was born in Slavonski Brod, Croatia, on 30th December 1972 into Catholic family. I grew up in a family surrounded by the love of my parents, brother and sister. As a little girl I always dreamed that I would be a doctor or a pilot when I grew up. My dolls were my patients that I treated each day and when I ran across the fields, I always looked at the sky in wonder and fantasized about being a pilot. The first movie I watched as a little girl was "Sandokan" (in black and white), the story of a very young and handsome Indian with long black hair. What can I say? I fell in love with him. Then I started thinking about how I would definitely get married when I grew up, to Sandokan, of course. Childhood was the best period of my life: I was surrounded by love, joy, laughter, play… From my parents I absorbed, almost by osmosis, belief in God, unconditional love, security, joy, hope ... They've been a model of true believers. I loved to watch my mom and dad to see how much they loved each other. My parents taught me, and my brother and sister as well, to trust in God, to love, to forgive, to be responsible, mature, independent, free… I am grateful to God for my parents.
Opširnije...
Od listopada 2012. do lipnja 2013. u trećoj se probaciji u Rimu u Generalnoj kući nalazi se naša s. Blaženka Divić. Više o vijestima OVDJE
Opširnije...